Breakfast Buddies and Dining Out Group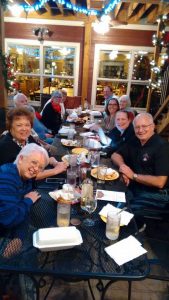 Breakfast Buddies- Meet Friday's at various local restaurants- check the church calendar for location and time. UPDATE:During COVID-19 we will meet either at the church or at a members home (outside, bring chair and own breakfast) Check the Tuesday Blast for more information.
On Hold due to CoVID-19 The Dining Out Group meets once a month at various restaurants in and around Pickerington. Join the group for good food, fellowship and fun! Check the church calendar for more information.